They say that life is all about choices. Fall or winter? Halloween or Thanksgiving? Hot chocolate or eggnog?
When it comes to your website, however, either/or simply won't do. It can't be just beautiful or effective — it has to be both.
Luckily, you can have a stunning website that also generates endless leads. Indeed, this month's best real estate websites check both boxes with aplomb!
Simon Polito Newport Beach, CA
With Simon Polito serving as the new host of Selling Southern California, we knew that even more people would soon visit his website. So our goal was to impress them from the moment they loaded his site. The full-screen gallery of multi-million dollar homes is a striking way of welcoming would-be clients, demonstrating the caliber of his listings and service. A classy black-and-white color scheme is made even more appealing by gold lines that subtly guide your eyes to the various sections.
What's unique about this website? Of course, we also made sure to prominently feature Selling Southern California on his website and even included a signup form for sellers who want to be featured on it.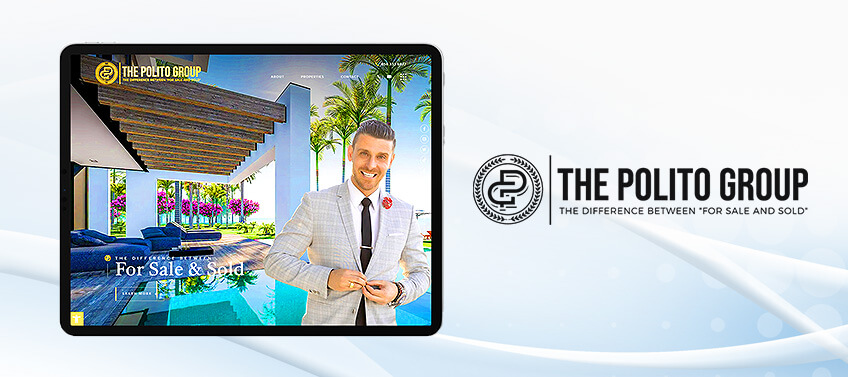 Adriana Trenev Newport Beach, CA
Our website for Adriana Trenev uses contrast to delightful effect. For instance, its modern aesthetic is counterbalanced by the whimsical serif font used for section headers. Similarly, the clean and professional look is livened up by the use of pale pink tones, geometric shapes, and parallax backgrounds. This approach effectively captures everything that makes this woman-led team special.
What's unique about this website? Hovering your mouse over certain website elements also reveals delightful design quirks. For instance, placing your cursor over a black-and-white photo renders it in full color, while doing the same on CTA buttons triggers a unique animation.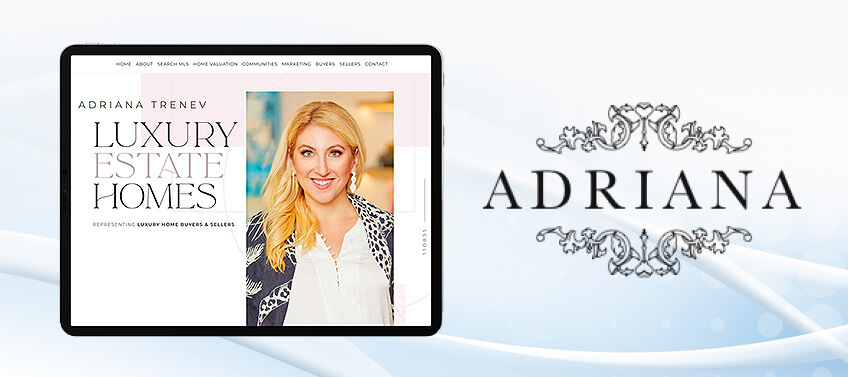 Billy Nash Palm Beach Gardens, FL
Billy Nash's warm personality belies his decades of experience handling high-net-worth clients — first as a private banker and now as an elite agent. In many ways, his website is a reflection of his trademark amiability and concierge-level service. Yes, the site features exclusive estates visitors can't find anywhere else, but it also has a seamless layout that's intuitive from the get-go. At the same time, we incorporated marble-like textures into the background to underscore that luxury is second nature to Billy.
What's unique about this website? The ultimate yardstick for a luxury agent is sales. That's why for Billy's website, we created a "Trophy Sales" section that spotlights his most impressive deals.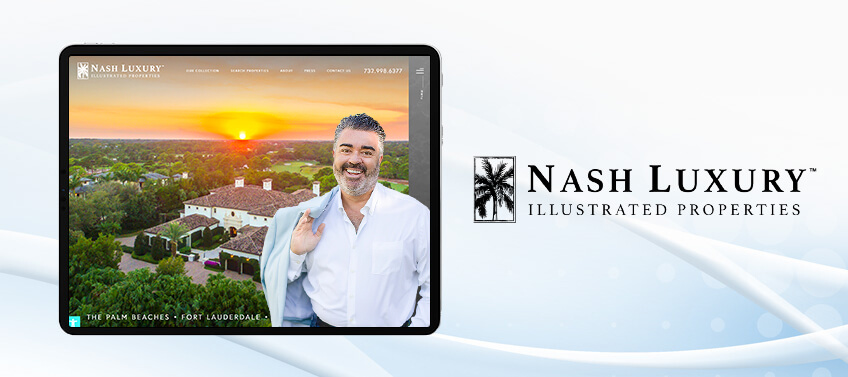 Keianna Williams Atlanta, GA
Keianna Williams' website possesses a zen-like elegance that makes it truly stand out. We achieved this effect by using a unique shade of purple, which communicates Keianna's elite service effectively yet effortlessly. Paired with modern serif fonts, this site has an almost glossy magazine feel. Our design direction is further enhanced by our photo-centric approach and use of content blocks.
What's unique about this website? There's no better advertisement for an agent than her clients' testimonials. As such, we gave ample space on Keianna's website to spotlight her glowing customer reviews.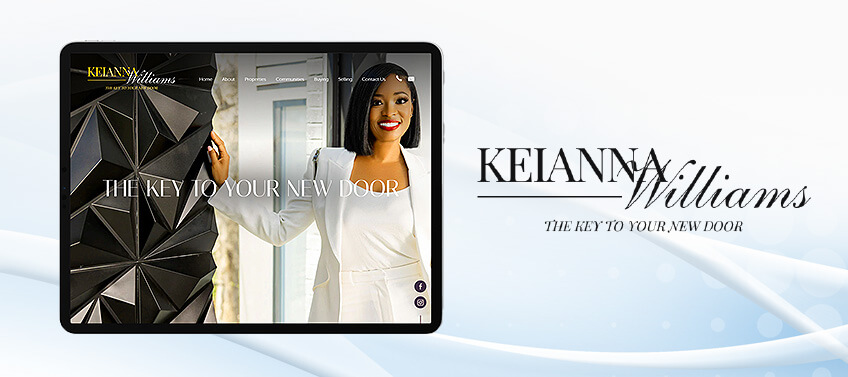 Caroline Fleck Los Angeles, CA
Buyers come to Los Angeles for the luxury properties, but they stay for the lifestyle. That's precisely why Caroline Fleck wanted her website to look and feel more like a lifestyle page. Indeed, seaside vistas, palm-lined streets, and majestic homes populate the banner video, showcasing the prestigious world Caroline can grant clients access to. User experience was given equal attention, too, as evidenced by the powerful property search tool and the interactive listings map.
What's unique about this website? Caroline believes that every corner of her website should tell a story. For this reason, the drop-down options from the main navigation are accompanied by photos to better illustrate Caroline's exemplary service.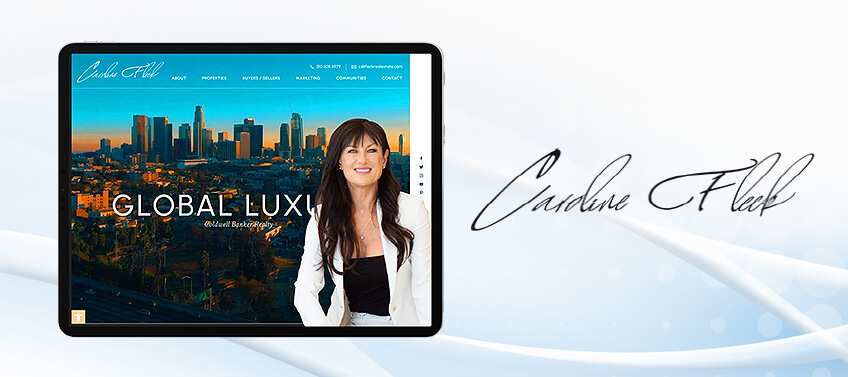 House Edge Tampa, FL
House Edge constantly pushes the envelope because it believes that clients deserve more than just a good agent. Fittingly, it deserves a cutting-edge website that lives up to its reputation for innovation. For HouseEdgePro.com, we created a modern look that blends together full-screen videos, straightforward navigation, high-contrast colors, and avante-garde background imagery. Gold design elements also emphasize the message that exceptional service comes standard with this team.
What's unique about this website? Placing your mouse over a CTA button causes it to turn gold – a little touch that's indicative of House Edge's attention to detail.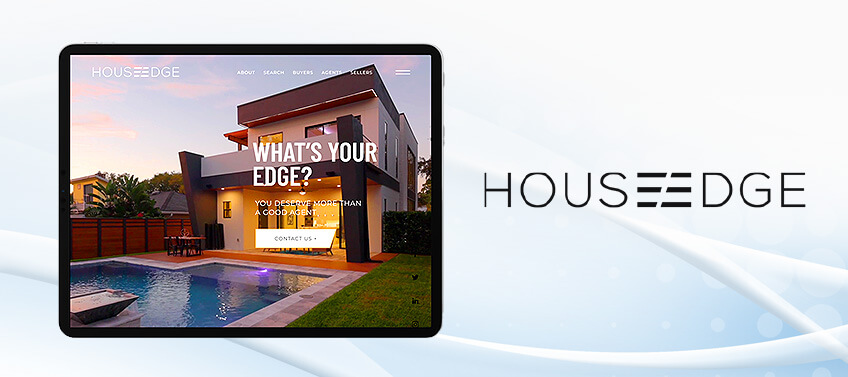 Bree Hughes Team Orange County, CA
There are some places that sell themselves and Orange County is definitely one of them. That's why for Bree Hughes' website, we made sure to make this sunny slice of paradise the star of the show. The full-screen video immediately transports you to this iconic place, where panoramic seaside views, sprawling multi-million dollar estates, and beautifully designed interiors come standard. Colors were also carefully chosen for this project; blue reflects the sparkling Pacific Ocean, while gray connotes prestige and exclusivity.
What's unique about this website? The Why Work With Us section, which features Bree Hughes Team's sales accomplishments, reminds visitors why "Deliver Value. Deliver Results" is the team's slogan.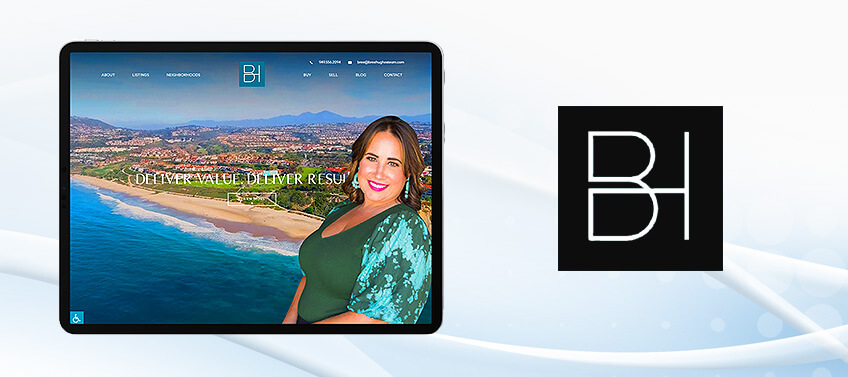 Romeo Echo Real Estate Simi Valley, CA
Romeo Echo Real Estate is unfailingly loyal to its clients. After all, it's a veteran-owned business that caters primarily to fellow veterans. Our design makes this immediately apparent, as can be seen in the flag-themed banner section and the patriotic colors used throughout the site. Its core values, meanwhile, hearken to the discipline and precision one develops while serving in the Army. There's also a Meet The Team section, which not only introduces the people who make up the company, but also highlights their military service, too.
What's unique about this website? Veteran clients have unique needs, be they buyers or sellers. Luckily, Romeo Echo Real Estate has real-life success stories from the brave men and women it has served.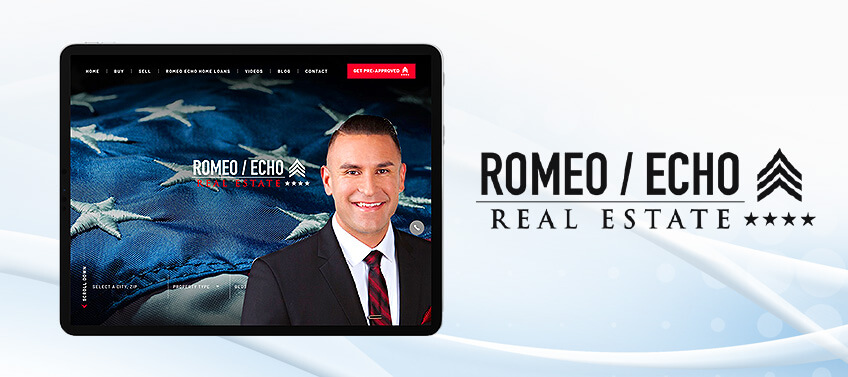 Liz Leeds Vail, CO
Liz Leeds' goal is to make her website the one-stop source for Colorado luxury homes. At the same time, she also wanted her site to embody the sophisticated lifestyle this skiing destination offers. We were able to achieve both objectives by incorporating powerful IDX features and tasteful design. The banner section, for example, features immersive videos of ski resorts and winter homes while also having a property search bar integrated into it. We also made a section called "Record Breaking Sales" where recently sold ultra-deluxe properties are highlighted.
What's unique about this website? Living in a ski resort is a dream indeed and this concept is brought to life with Story Books, interactive brochures that offer an insider's view into Vail, CO.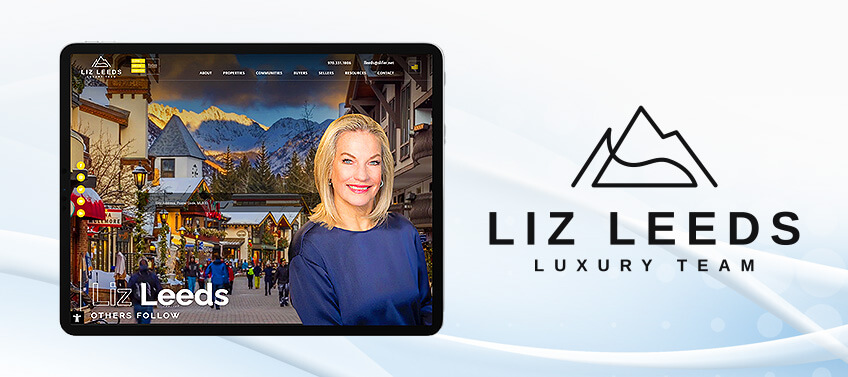 Adept Real Estate Bremerton, WA
Finding the perfect home is no easy task. That's why Adept Real Estate serves as your trusted guide to the best properties in Washington State — a fact that we made sure to communicate on its website. Rather than the usual featured communities section, we opted to make a full-blown interactive map instead. You'll also see navigation-inspired details like a compass incorporated into the background to sharpen this message. So when you visit this website, you immediately get a sense that you've got a roadmap towards success.
What's unique about this website? To break away from the usual blocky design, Adept Real Estate's website uses circles as a major motif. You'll see this design touch on the logo, featured listings, CTA buttons, and more.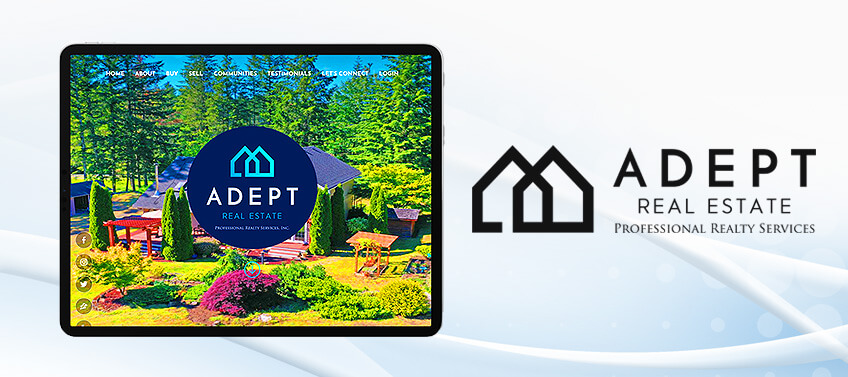 Recap of Standout Features
If your website needs a little bit of oomph, allow these features to serve as inspiration:
Simon Polito – A signup form on Simon's website makes it easy for would-be sellers to have their properties featured on his show.
Adriana Trenev – Hovering your mouse over CTAs and photos reveals unique design touches.
Billy Nash – The "Trophy Sales" section clearly demonstrates this elite agent's impressive business acumen.
Keianna Williams – By putting a spotlight on client reviews, the website presents Keianna as a trusted and reliable agent.
Caroline Fleck – Photos make drop-down options more engaging and further spotlights Caroline's hands-on service.
House Edge – Gold is used strategically throughout the website, including the CTA buttons.
Bree Hughes – The Why Work With Us section convincingly lays out Bree Hughes' amazing sales achievements.
Romeo Echo Real Estate – The Success Stories section demonstrates the team's expertise in helping veterans buy or sell homes.
Liz Leeds – Interactive brochures called Story Books give would-be buyers a sneak peek of Colorado's luxury winter homes.
Adept Real Estate – Using circles as a motif helps this website veer away from the expected "blocky" design.
Ready to Revamp Your Website?
You deserve a website that elevates your online presence and attracts more clients. Agent Image can make that happen for you.
With over 25,000 successfully launched websites — including those for billion-dollar-selling agents — we know exactly how to build sites that build businesses.
Why not request a consultation with our Web Marketing Strategists? It's 100% FREE and NO RISK. Just call 1.877.378.3511 or send a message here.