Every month, the web strategists at Agent Image review home pages of real estate websites that are poised to perform. With a mix of style, substance and search marketing techniques, these 3 picks have earned a respected 5-star rating. Let's take a closer look and see why.
The Core Group
With the real estate market today, it's essential that your online presence extends beyond your main website. The Core Group is an example of a great agent website that makes use of social media links on the homepage. Social media integration is key because it engages your visitors and encourages potential clients to connect with you in various ways. It's a quick and cost-effective way to spread the latest and greatest about local real estate trends, hot properties, trends and updates.
The site also has a wealth of resources from real estate news and market updates to a blog with genuinely interesting and helpful articles. The listing pages have large, beautiful photos and videos with detailed descriptions on each property. This website is also very mobile-friendly and can be viewed on an iPad or iPhone. Hats off, Core Group, on a real estate website well done.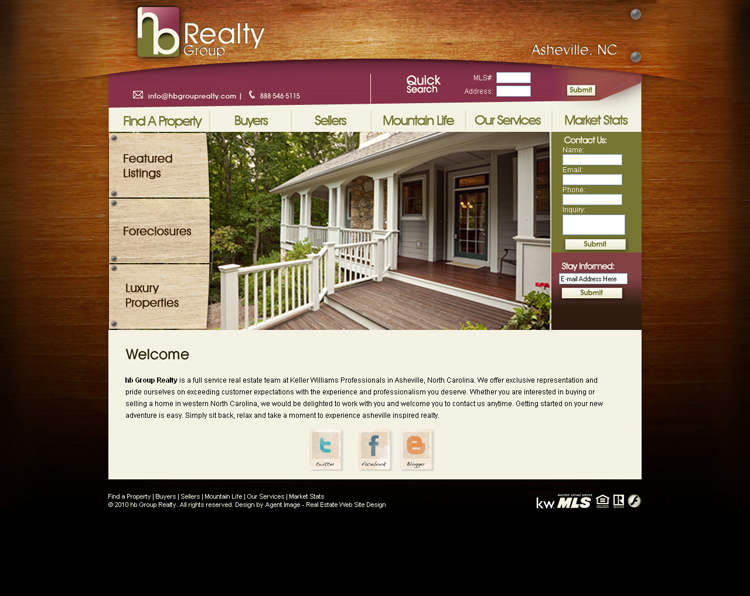 HB Group Realty
The emotional connection a website creates is just as key as the content. Well-thought out, targeted design speaks worlds about you as a broker or agent and what you value and the kind of clients you want to attract. The unique home page layout of the HB Group Realty site incorporates uncluttered, user-friendly navigation where the focus is prominently directed to the property listings.
The home page also features beautifully rendered social media icons, call-to-action forms and contact information links. A Quick Search form accessible from the home page provides an easy way for home buyers to get straight to properties – and when they're there, pages greet them large headings and organized, detailed listing descriptions.
Helene Kurtz
Helen Kurtz's website gets high marks for search engine optimization, usability and branding. The easy to navigate, elegant layout site features use of one-click property searches, sorted by neighborhood and by property type. Links to each area provide clear links to visitors and are great food for search engines. Three different calls to action on the home page help point visitors out to how the website can help them. The site also packs a wealth of useful information like bus routes, map, a news room, great articles with rich content and tons of community information.
What do you think of these real estate agent websites, or any others out there for matter?
If you want to increase your real estate business, you need to put together the best website you can. Designing a website that stands out is a surefire way to generate real estate leads, and at
Agent Image
, our web strategists and marketing consultants are working every day to provide you with new ways to market yourself to buyers and sellers. Consultations are free, so
get started
! For more
Agent Image reviews
, take a peek at some of our
Success Stories
on our
top producing websites
.