Building your online presence? Agent Image has a steadily growing reputation for first-rate website design. Here are 30 of the most stylish, influential and responsive WordPress real estate websites you'll find in our showcase.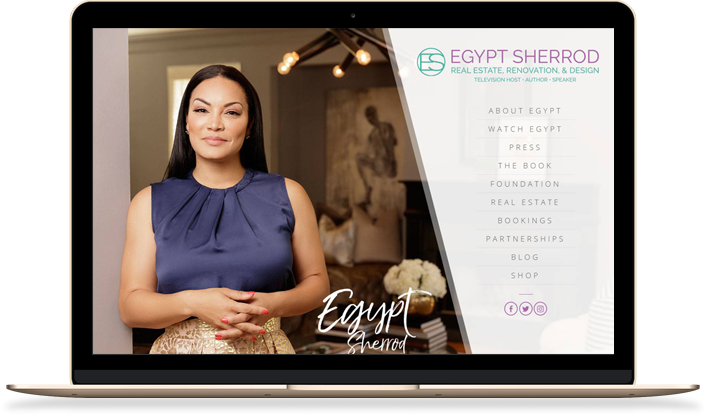 Egypt Sherrod
EgyptSherrod.com serves as the perfect platform for one of the real estate industry's most recognizable celebrities. This glamorous website is a hub for myriad resources, giving users access to a wide range of useful and entertaining articles, videos, learning resources, and opportunities to connect with Egypt. No other medium can fully capture the larger-than-life presence of one of the industry's most well-known home flippers and interior designers.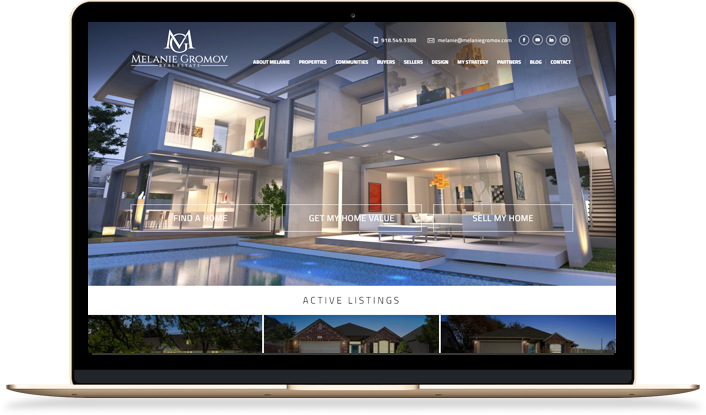 Melanie Gromov
Sleek, serious, and modern, MelanieGromov.com shines the spotlight on South Tulsa's most elegant homes. Melanie opts for dark hues and small type to make the key elements of her website truly pop out when the viewer focuses on them. Her homepage is built for convenient, categorized searching based on popular communities, school districts, and top active listings. She even showcases her most recently sold properties to show clients her substantial body of work.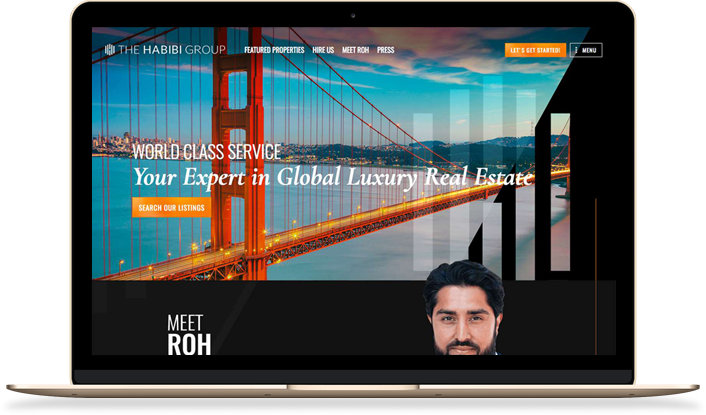 Roh Habibi
The Habibi Group uses excellent website design to mirror the luxury of the San Francisco Bay Area. The vibrant video wall greets visitors with charming angles of the city, as well as footage of Roh Habibi doing what he does best. Modern layouts and seamless animation make the homepage dynamic, while artfully crafted inner pages make readers feel as if they're viewing magazine layouts. This is style and sophistication done right.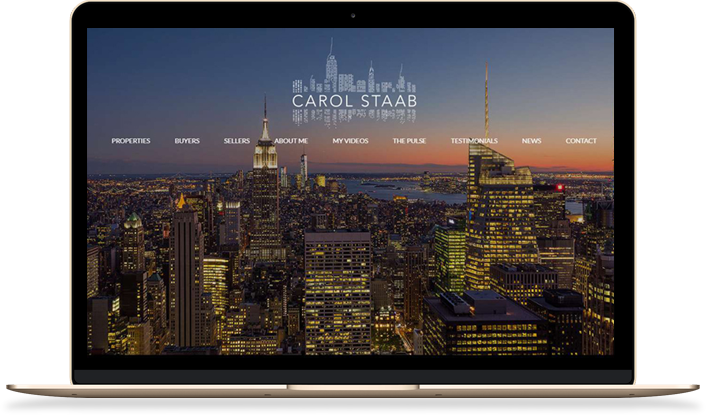 Carol Staab
The Manhattan skyline stars in Carol Staab's real estate website, appearing on her crafty brand logo and providing a gorgeous backdrop for her welcome page. The site makes great use of modern media, especially streaming video playlists, to present her expert knowledge of Manhattan's neighborhoods, top listings, and market reports. The site also notably uses small type, a subtle but effective touch that lends a unique elegance.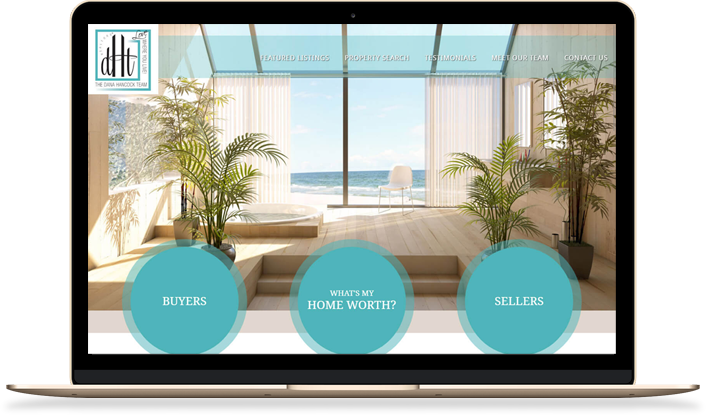 Dana Hancock
On DanaHancock.com, you know exactly, what you're getting, thanks to a concise yet informative team description on the homepage. Visitors are welcome to explore a multitude of opportunities in high-end Jacksonville, FL real estate. Two rows of featured listings are available, offering more than a handful great options off the bat. Thanks to the white and seafoam color scheme, which fits the area's attractive coastal lifestyle, using this website is a pleasant experience all throughout.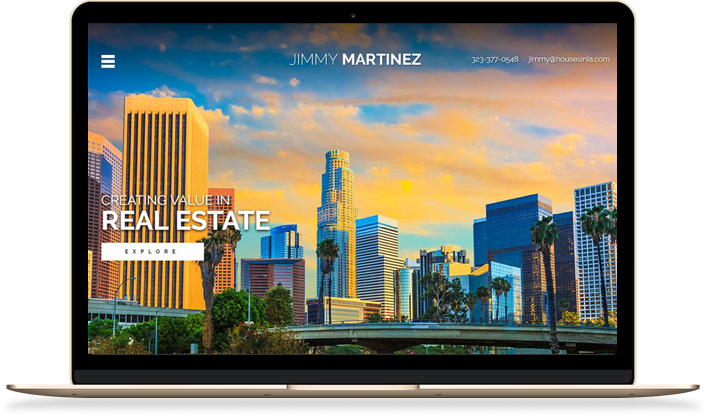 Jimmy Martinez
Los Angeles may be one of the best known cities around the world, but through HousesInLA.com, it appears with a fresh look and feel. Captivating full-page photos fill a deliberate minimalist design on the main screen. Plenty of off-center focal points are used here, lending a dynamic and modern feel to the page. Inside, punchy colors in the location and property photos complement well-written and easy-to-read text content.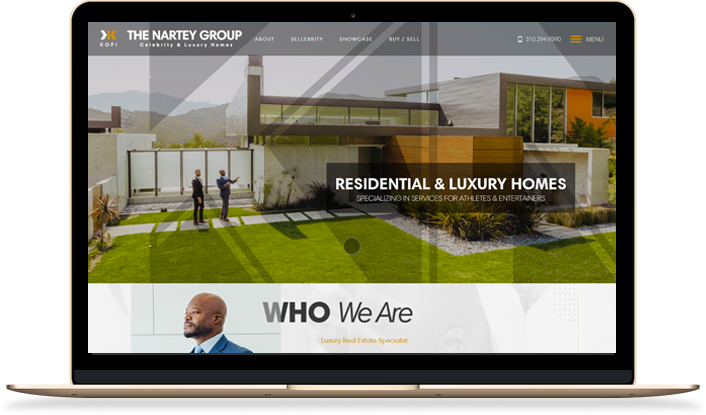 Kofi Nartey
Targeting the high-profile professional athlete and celebrity market, the Nartey Group packages its services and expertise in a real estate website that captures the glamor and sophistication of Southern California living. Dedicated pages for concierge services and pocket listings create a strong statement about what this team offers. Sleek and dynamic layouts are used all throughout. The agents exude a smart, cool confidence in their spiffy profile and team photos.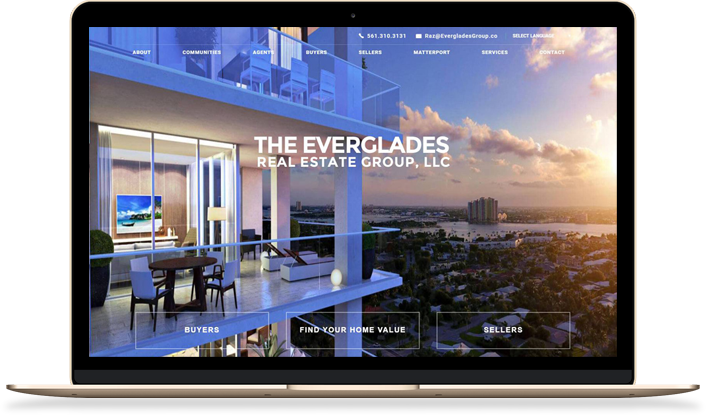 Razvan Anghel
Classy and cool with its soothing blue color palette, Razvan Anghel's EvergladesRealtyGroup.com is a fitting welcome to the West Palm Beach real estate market. High-resolution property images mesmerize website visitors on the homepage, with three buttons providing instant services for property buyers and sellers. Below the fold, users can go in-depth with their home searches with a quick search bar, links to featured communities, and a gallery of high-profile listings.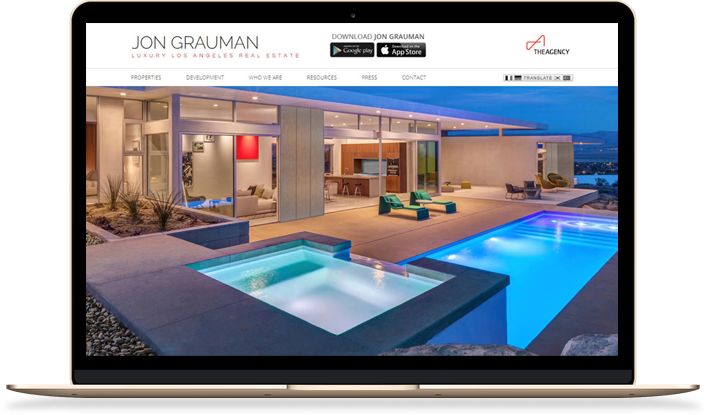 Jon Grauman
Minimalist in design, yet fully packed with features and resources, JonGrauman.com is an ideal match for Los Angeles luxury real estate. The website uses sleek, clean layouts to present beautiful page-wide images, detailed and up-to-the-minute property listings (including virtual video tours), comprehensive market reports, and even notable media features from high-profile local and national publications.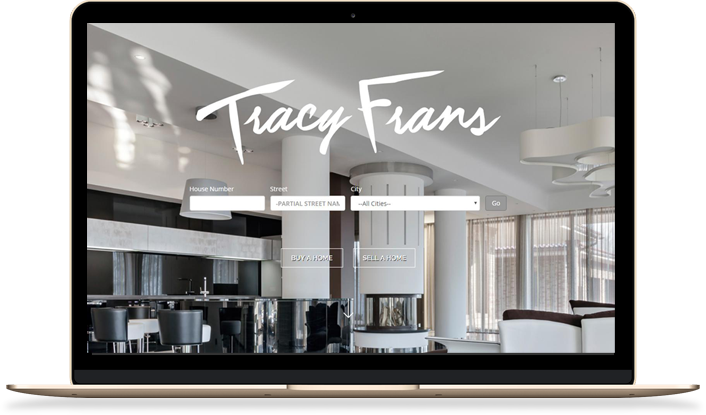 Tracy Frans
Less is more on the gorgeous website of Omaha real estate expert Tracy Frans. While its black-and-white color scheme catches your attention with its emphatic simplicity, its straightforward usability is on full display. Just look at how the homepage frames a prominent search bar, immediately followed by call-to-action buttons for homebuyers and sellers. This site is a clear example of how modern design highlights user experience without compromising stunning visual appeal.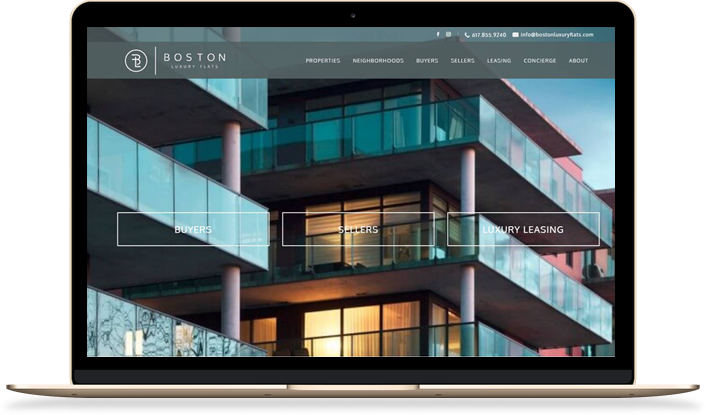 Boston Luxury Flats
Stunning with its cool gray theme, the Boston Luxury Flats website exudes an air of sophistication that matches Beantown's high-end neighborhoods. Beneath this sleek exterior lies a full complement of IDX features that make finding the perfect Boston home a breeze. The variety of search tools available – from the quick search bar, to the interactive map, to the comprehensive advanced search page – provides options for a similarly diverse range of users scouring the housing market. Custom landing pages for featured towns, neighborhoods, and buildings shine the spotlight on high-profile real estate opportunities for users with specific locations in mind.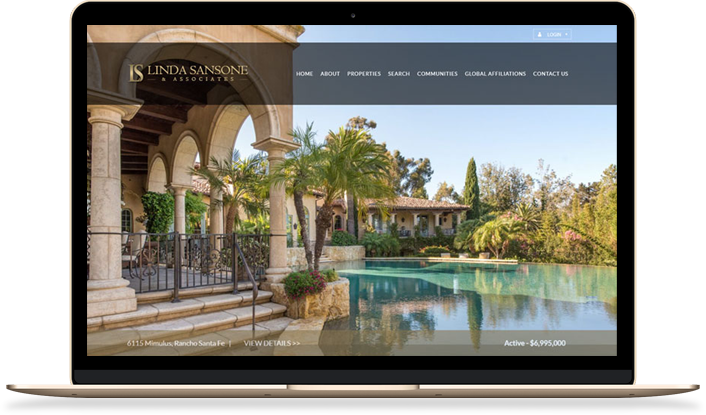 Linda Sansone
San Diego County's most jaw-dropping luxury properties take center stage on the main page of LindaSansone.com. Vibrant, high-quality property photos stretch from edge to edge, while the address and pricing details are appear at the bottom, just below the fold. With this simple yet meaningful presentation, Linda and her team enchant the high-end real estate market, inviting them to further explore the website's rich sections and content.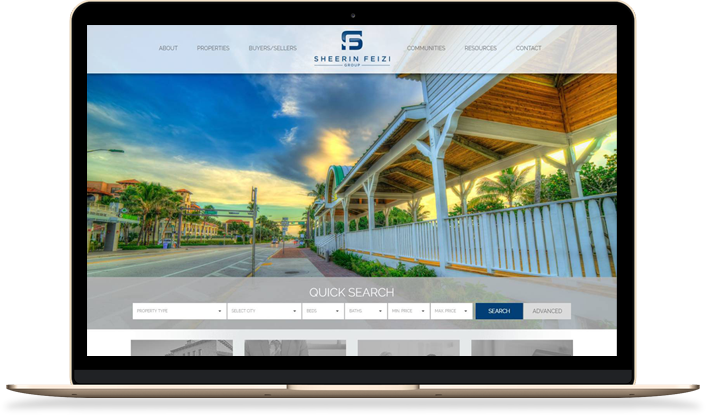 Sheerin Feizi Group
From edge-to-edge community photos that welcome every visitor to the site, to the smooth transition animation effects at every scroll, Sheerin Feizi's agent website is a visual delight. Its clean color scheme is contrasted with vibrant images that fully capture the spirit of the southern Florida communities of Delray Beach, Boca Raton, and Boynton Beach. The information featured in the site pages are tailored to real estate audiences of all kinds – from buyers, sellers, to commercial property investors.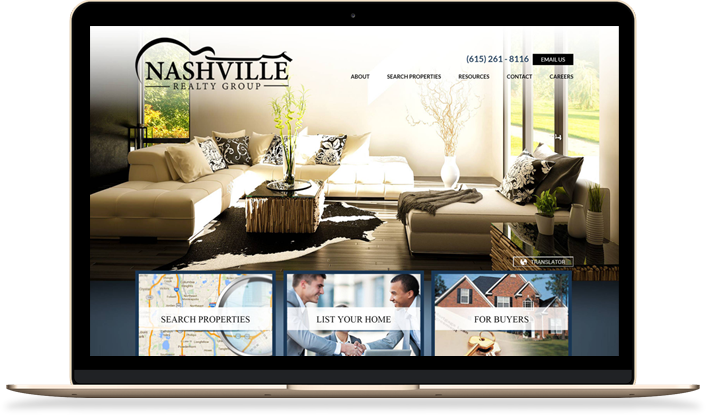 Nashville Realty Group
Looking for or selling a home in the Music City? Nashville Realty Group's classy real estate website is the perfect place to start. With featured communities and high-profile listings on display on its home screen, NashRealtyGroup.com makes the idea of searching for the ideal property sound like music to your ears. This brokerage covers all your needs with a comprehensive suite of real estate resources hosted online, from area- and map-based search pages, to home valuation tools, to the easy-to-use mortgage calculator.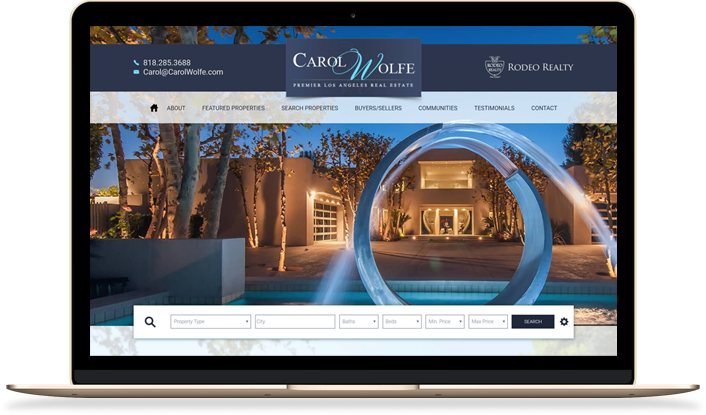 Carol Wolfe
"Nobody does it better," is Carol Wolfe's guarantee to her customers in the Los Angeles area – a promise that is evident in her site's About page and most importantly, in her Testimonials page. The charming design of the homepage, the use of a royal blue theme, angled cut-out layers, and mix of serif and cursive typefaces – these design elements add up to create an elegant canvas for Carol's beautiful property listings. There's no question that Carol is truly one of LA's best.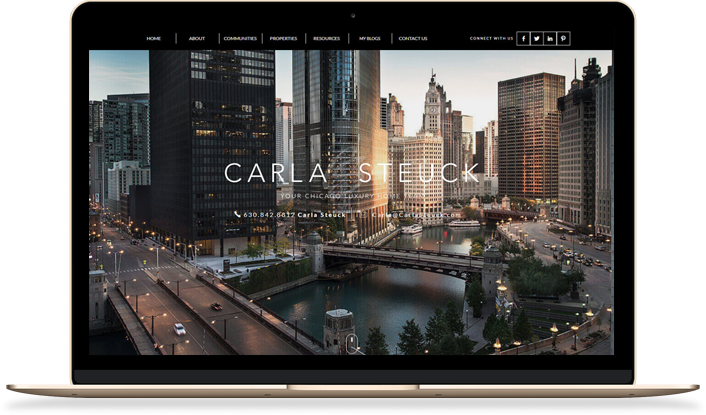 Carla Steuck
Opting for a predominantly black color scheme, Carla Steuck's ChicagoLuxuryLiving.com effectively emphasizes the sparkle and sheen of Chicago's most upscale living spaces. Her minimalist main screen is an invitation to connect, with her contact information presented front and center. Below the fold, users can search for their dream homes using either a convenient search bar, an interactive map, or a regularly updated featured property gallery.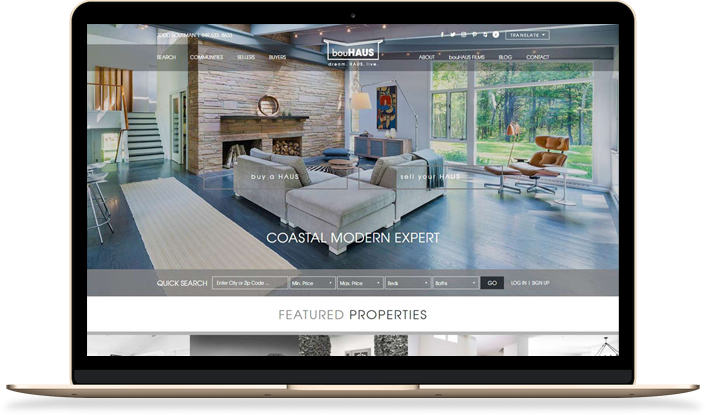 Todd Bousman
bouHAUS Properties backs up its claims as Orange County's expert in modern coastal homes with an elegantly designed and feature-packed real estate website. With a diverse and relevant selection of real estate tools, bouhaus.com makes the search for a dream home convenient. Seamlessly integrated into its cool grey theme are prominent search tools, which includes custom interactive maps, handy quick search fields, and feature property and community highlights.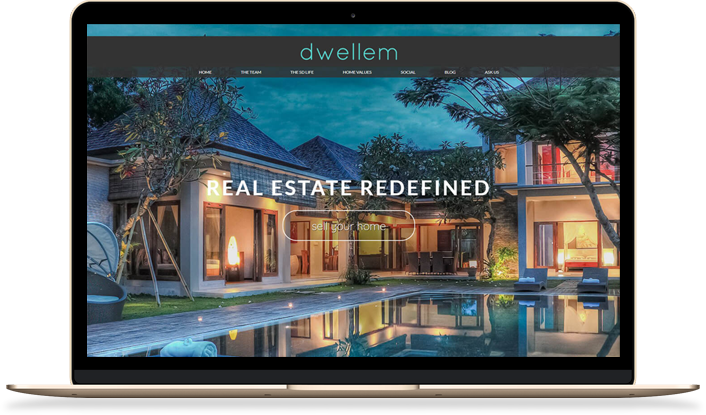 Dwellem Real Estate
Felicia Lewis and the dwellem team take pride in staying at the forefront of modern real estate marketing. This commitment to innovation shows on their website, dwellem.com. Among the site's most notable features is its Social page, which houses the company's Instagram feed; an Open House RSVP page and a visual "What's My Home Worth?" page. The dwellem team also markets themselves effectively by maintaining an active blog, as well as creating a compelling "Sell Your Home" page for those who want to list their property.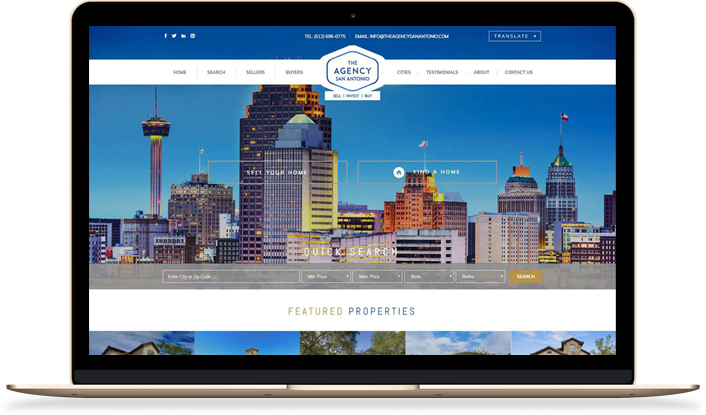 The Agency
Finding the right home in the Lone Star State's second most populous city is no longer a daunting affair, thanks to the accommodating design of The Agency San Antonio's real estate website. An action-oriented home screen welcomes every site visitor, with distinct buyer- and seller-oriented buttons set front and center, while a detailed quick search bar is present at the bottom edge. In addition, highlight properties and communities are showcased immediately below the fold.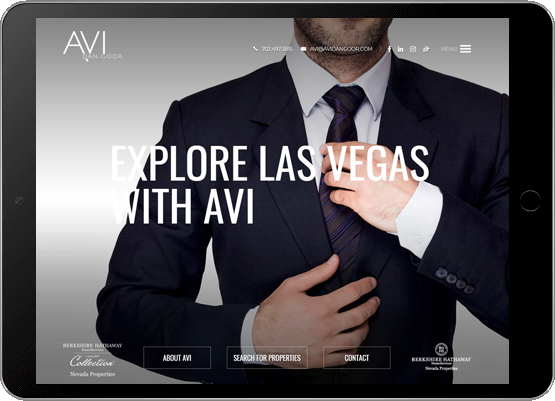 Avi Dan-Goor
For Avi Dan-Goor, the Las Vegas luxury market should be explored and experienced. That's why his website is designed with deliberate, strategic minimalism. Aside from the welcome video that appears when you first load his page, his main page is as straightforward as it gets, with just three main buttons linking to his profile, interactive search map, and contact page. Instead of overloading users with information, the website invites visitors to have "Coffee with Avi," making client connections deeper and more personal.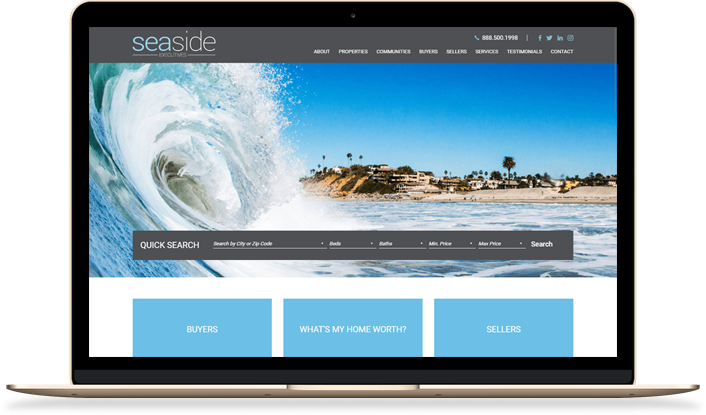 Seaside Executives
The Seaside Executives branding rings true on Mark and Carrie Browne's sleek real estate website. Its casual background palette plays with light tones of grey and blue to provide the perfect contrast for sunny Southern California images. Throughout the site, users are treated to a variety of intuitive features, from easy-to-access search functions, to prominent highlight communities and properties.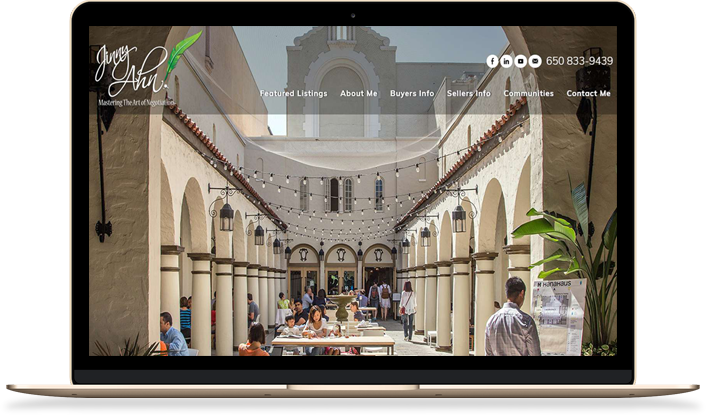 Jinny Ahn
Curious about luxury living in the San Francisco Bay Area? Key in TeamJinny.com on your browser and discover this exciting upscale home market. Jinny does an excellent job of packing her homepage with useful search tools, references, and access to highlight listings so that every visitor has a bevy of resources at hand right off the bat. She even encourages clients, old and new, to connect by offering free home valuation services accessible only through an exclusive keycode.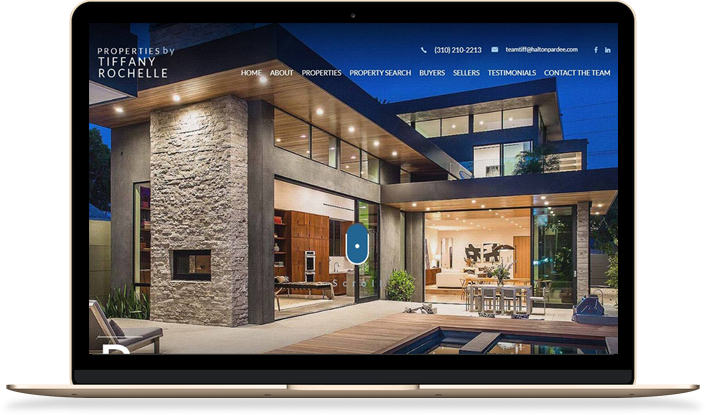 Tiffany Rochelle
TiffanyRochelle.com makes upscale Los Angeles homes larger than life with stunning, edge-to-edge photos that welcome you when the homepage loads. It's sure to get any visitor hooked, so right below the fold the website offers a selection of features and tools that encourage users to start exploring their options. These include elegantly designed search fields, neighborhood profiles, and featured properties. The website is a great way to discover the inviting Venice neighborhood.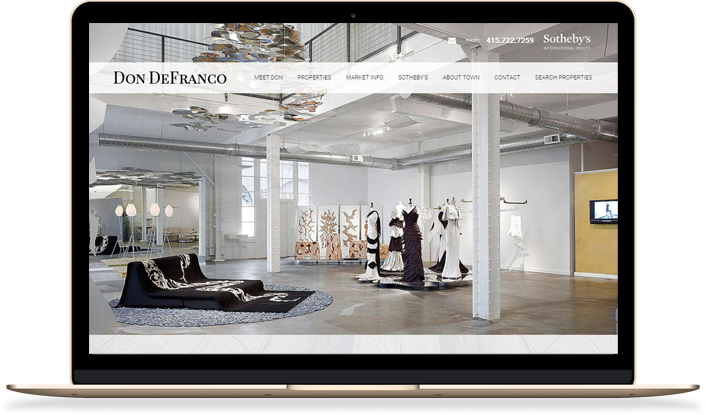 Don DeFranco
Don DeFranco takes pride in "representing San Francisco's finest properties," and he does so effectively on his real estate website. Opting for simplicity and straightforwardness, Don makes good use of negative space to highlight important focal points. Above the fold, for instance, users can immediately find a search bar, as well as a link to one of his exclusive listings. If you're serious about finding your dream home in the Bay Area, DonDeFranco.com will make it happen without a hitch.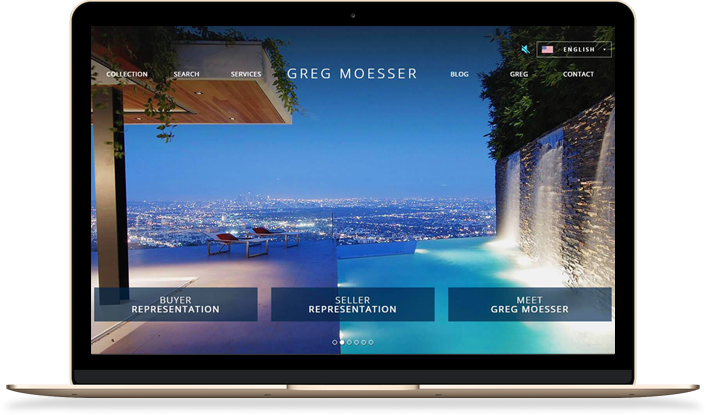 Greg Moesser
LAClassicEstates.com is a classy online gateway to the opulent enclaves of Greater Los Angeles. Local luxury real estate specialist Greg Moesser gets right to the point on his homepage, with main buttons highlighting his expertise as both a buyer's and a seller's representative. In addition to linking to per-community listings pages, the home screen also has a large "Home of the Day" section that ensures maximum exposure for hot and high-profile listings.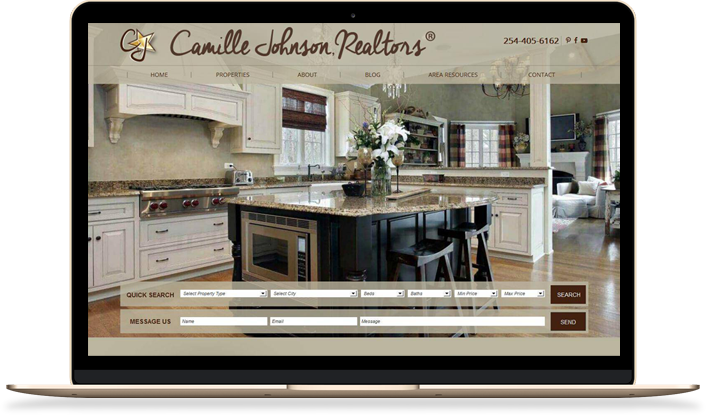 Camille Johnson
Luxury living in Waco, TX meets service with a smile on CamilleJohnson.com. Camille and her team greet every website visitor with a charming team photo as soon as the home screen loads. This warm welcome is immediately backed up with a pair of convenient tools above the fold: a quick search bar and a "Message Us" field that invites users to connect in an instant. With this service-first approach, there's no wonder Camille is Waco's number one agent since 2003.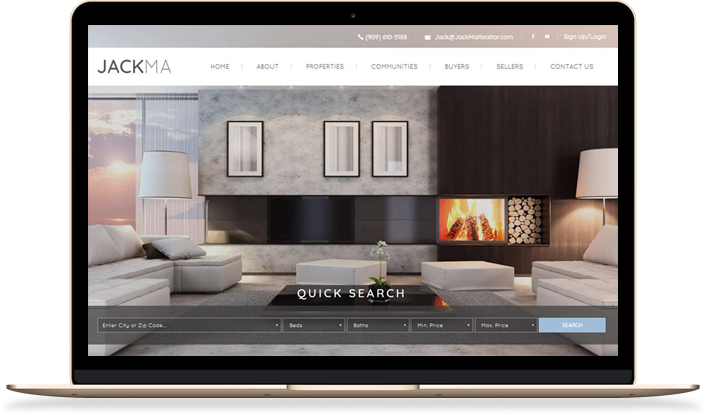 Jack Ma
Clean and classy best describes Jack Ma's real estate agent website. It's a fitting platform for the airy and refreshing luxe homes that abound in the Southern California home market. With key resources made prominent by tidy design layouts and vivid images, it's easy to get around and find what you're looking for here. This elegant online portal packages the most compelling highlights of Jack's local areas of expertise for an audience that spans the entire globe.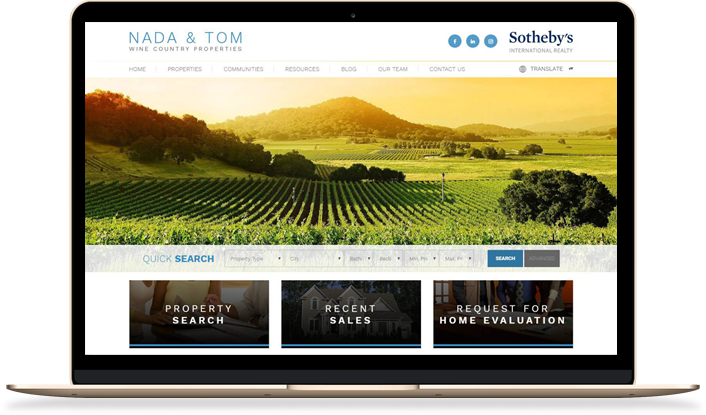 Nada & Tom
From entry-level homes, to luxury properties in Sonoma wine country, the team-up of Nada Rothbart and Tom Wurst guarantees professionalism and unparalleled expertise. It clearly shows on their website, which features comprehensive and intuitive real estate resources for all types of real estate customers. The site also reflects the valley's authentic charm with its sun-showered landscape photos and interviews with notable residents.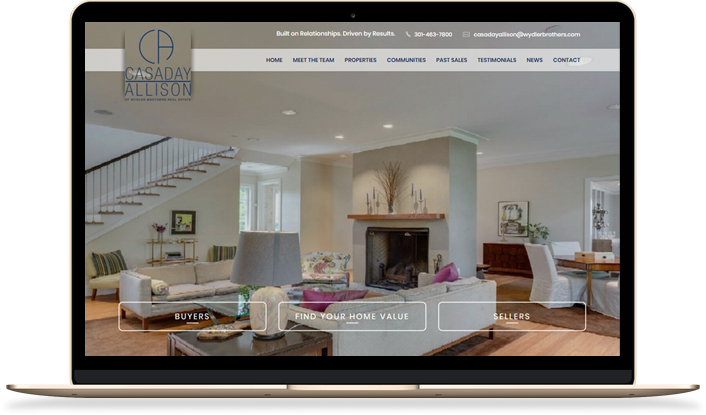 Casaday Allison Group
Representing neighborhoods across the DC, Maryland, and Virginia region, the Casaday Allison Group covers a lot of ground. Fortunately, that's no problem for the team's content-driven website. With a spacious magazine-style layout, clean lines, and bold images, the site's visual appeal is a gateway to more excellent content. Highlights include three prominent calls to action on the homepage banner, more than 25 community pages, and a dedicated section for Past Sales – a great way for potential buyers to keep track of hot home trends in the area.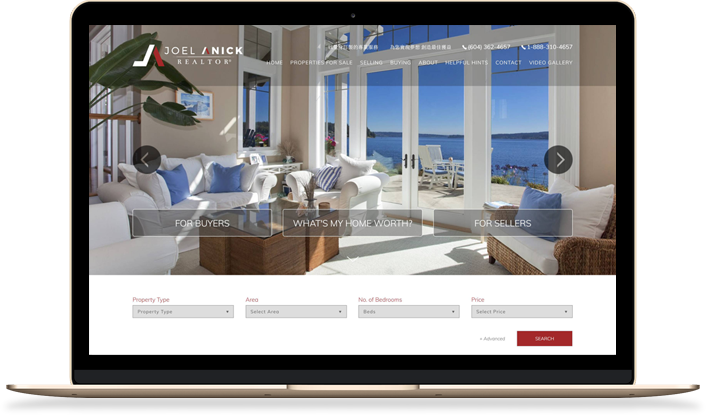 Joel Anick
Appealing to a global audience, Joel Anick's YourBestCoastRealtor.com is a colorful showcase of exceptional British Columbia residential communities. The site offers a diverse range of tools and resources for high-end real estate buyers and sellers, including for-sale listings pages pre-categorized according to price range. Smart and professional-looking, this website expertly advertises Joel's promise of tailor-made real estate services.
Are you looking to create a beautiful and influential real estate website this 2018? Our web marketing strategists at Agent Image can help you define your real estate business goals and plan for a modern and stunning website makeover. Contact us today for a free consultation!