A website is an integral part of every real estate agent's online presence. For many potential clients, it's their first glimpse into what an agent is all about and the services they offer.
At Agent Image, we specialize in creating websites that reflect your business and brand perfectly while being stylish, efficient, and easy-to-use.
Check out the top 10 most exceptional websites we launched in June 2020:
Kevin Meyer Group
Issaquah, WA
The Kevin Meyer Group website exudes an elegance befitting one of the most well-respected real estate teams in Washington. They're proof positive that when it comes to creating an effective website, less is more: Its modern look is all about clean lines, solid colors, and the smart use of animation.
All the site navigation tools and services you need are conveniently located above the fold. Scrolling down, you'll also get an introduction to the group and the stellar individual agents who make up this brilliant Washington realty team.
The best feature of this website: Its simplicity lends it a sophisticated look and feel that effortlessly embodies the Kevin Meyer Group brand.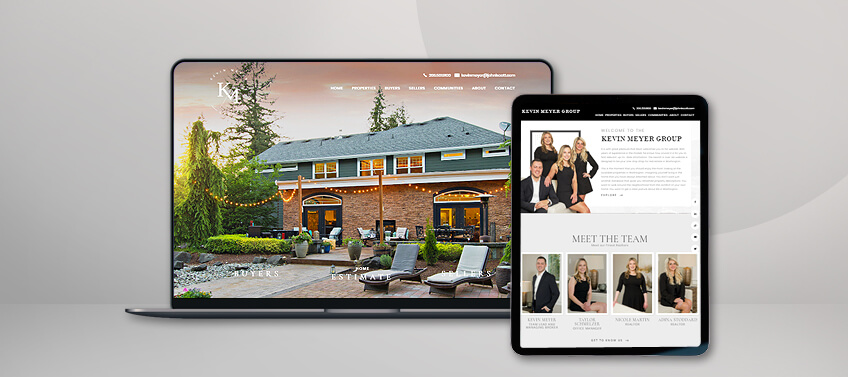 The Lewis Team
McLean, VA
LewisTeam.com is exactly what you'd expect from Virginia's premier luxury real estate agents. The heavy use of white together with the contemporary layout only adds to its refined aesthetic. It's the epitome of style and function.
This website highlights the most important aspect of the business—its top-notch team. It introduces the Lewis Team on its homepage and features personalized about sections for each member. It's easy for visitors to connect and learn about what they have to offer.
The best feature of this website: The Lewis Team excels in branding with its logo prominently displayed throughout its pages.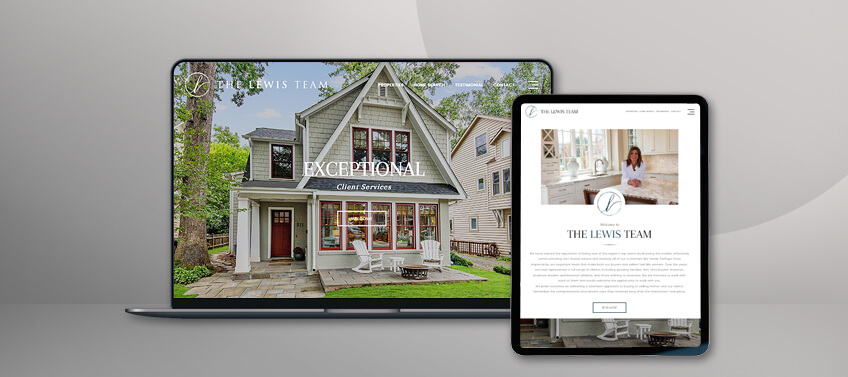 Brett Oppenheim
Los Angeles, CA
As one of Los Angeles' top-producing real estate agents and star of the hit Netflix show Selling Sunset, Brett Oppenheim is all about luxury. The neat layout of OppenheimRealEstate.com truly exemplifies the upscale homes and affluent LA neighborhoods that they represent.
The site opens with Brett's logo in a stylish font set atop a black background and nothing else. It's a simple yet captivating display that creates a regal and exclusive vibe.
The best feature of this website: Bold design choices don't have to be avant-garde to be effective. Opting for understated yet powerful stylistic choices make all the difference.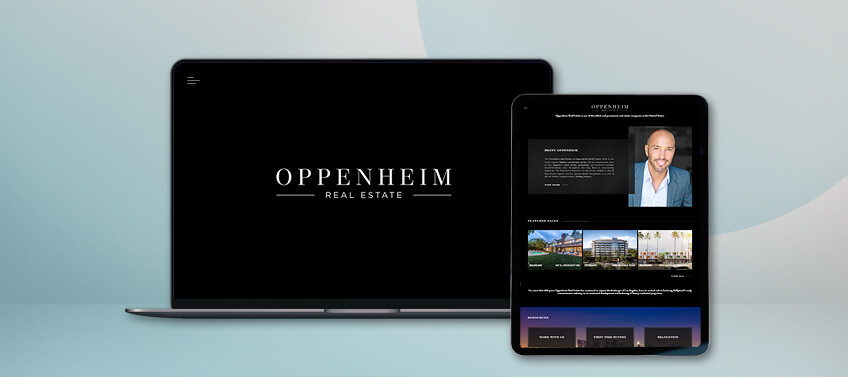 Gillette Group
Scottsdale, AZ
The Gillette Group gives visitors an inside look on who they are and what they do with a dynamic video header. The white, red, and black color scheme gives off an energetic feel without losing that elegant touch.
As the head of this top-notch realty team, Shannon Gillette showcases her bio, awards, and achievements so visitors can rest assured that they're in excellent hands. Her impressive reel of television appearances is also displayed right below.
The best feature of this website: Excellent use of video to captivate the attention of visitors and keep their brand at the forefront of clients' minds.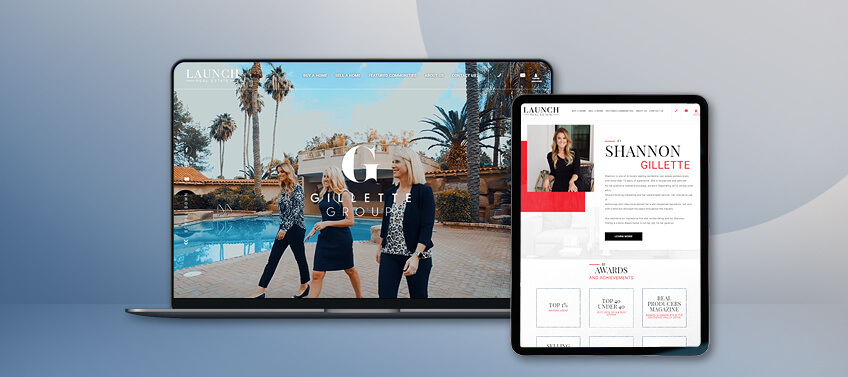 McCormick Group
Orange County, CA
McCormickGroup.com captures the beauty and allure of Orange County with its stunning slideshow header. Its blue, white, and orange color scheme flawlessly emulates the beach vibe of Orange County.
When it comes to awesome features, McCormick Group's website has it in spades. Find your dream property with its quick search bar and comprehensive community listing pages.
The best feature of this website: Artfully photographed waterfront views help elevate the site and offer visitors a glimpse of the Orange County lifestyle.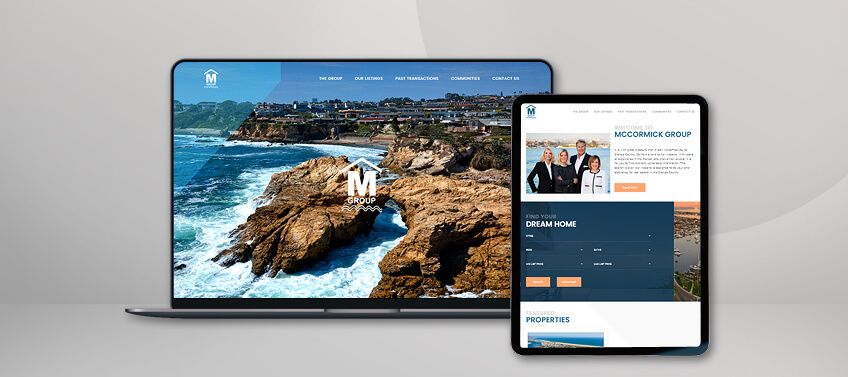 Top Orlando Homes
Orlando, FL
Top Orlando Homes doesn't just tell you why they're the best—they show you.
The video header alone is enough to convince visitors why they should work with this incredible Orlando real estate firm.
Scrolling down further, you'll see plenty more reasons why they're the go-to agents in the area. TopOrlandoHomes.com also beautifully incorporates the Keller Williams Realty's red-and-white color palette with gray-and-black accents.
The best feature of this website: The video header that showcases the skills and expertise of their agents remains visible on the site as you scroll through.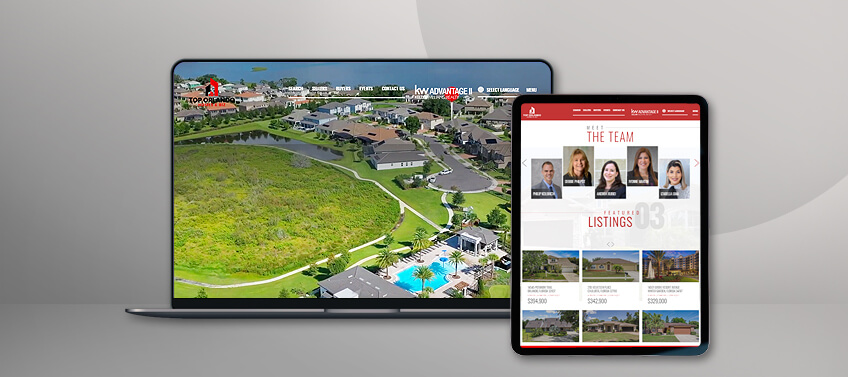 Berkeley Advisors
Bowie, MD
Berkeley Advisors delivers an unmatched, top-tier real estate experience you can't get anywhere else, and their website illustrates exactly that. TheBerkeleyAdvisors.com connects all their services in one easy-to-use site.
Full of interesting features and great design elements, this website is all about giving visitors access to the community, new developments, and more. What ties it all together is the classic navy blue, gold, and white color scheme combined with a streamlined layout.
The best feature of this website: The inspired meet the team section on the homepage features a black-and-white photo of the team that transforms into vivid color as you hover over each of the members.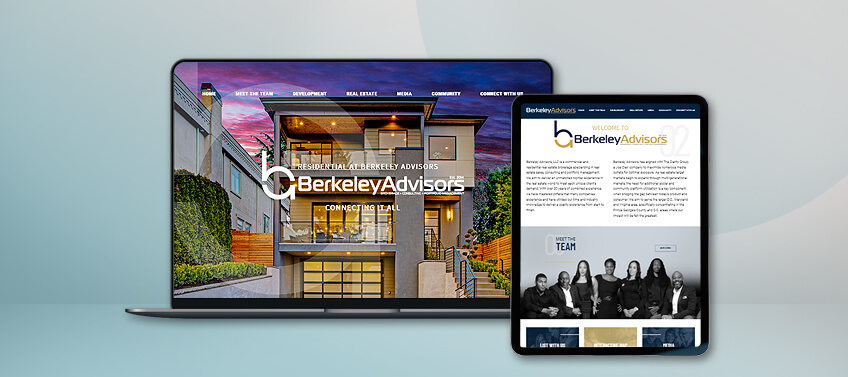 Ayers Realty Group
Kansas City, MO
Ayers Realty Group modernizes and simplifies your real estate journey. AyersRealtyGroupKC.com is designed to provide the best user experience possible: Whether you're a buyer, seller, or real estate professional, everything you need is right on the homepage.
Below the fold, the site focuses on the three most important aspects of your real estate journey: the property, the community, and the agent. It dedicates a section to each one complete with information, graphics and animation.
The best feature of this website: Its layout makes the website stand out from the rest because it has everything you need without looking too cramped.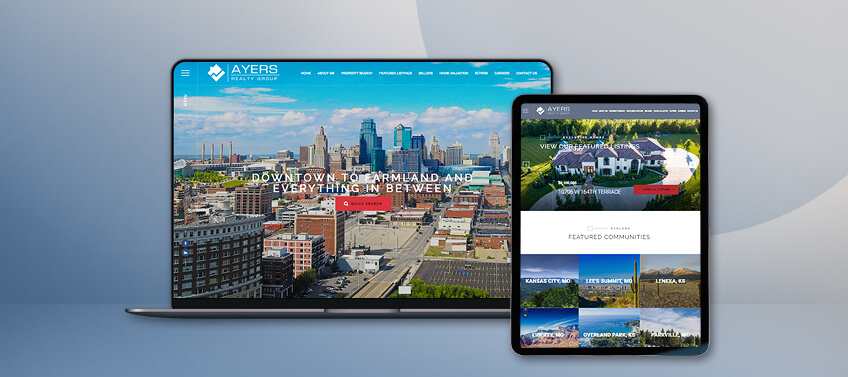 Mandile + Lorimer Property Group
Chicago, IL
The Mandile + Lorimer Property Group provides the highest level of service which extends to their website. Streamlined to maximize efficiency and usability, visitors have access to all their services right at their fingertips.
Searching for your dream property is easy with a quick search feature right above the fold. The site's classic black-and-white color scheme accented with light gold and navy blue effortlessly creates an air of sophistication. Its slideshow of Chicago's cityscape gives the site that extra element of polish.
The best feature of this website: Its dark color palette and subtle animation come together for a modern yet timeless feel.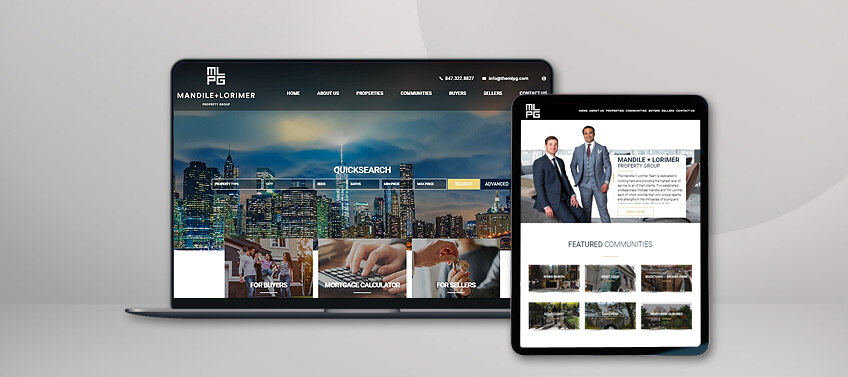 Spencer Raymond Group
Key Biscayne, FL
Spencer Raymond Group's website showcases the best of what Key Biscayne has to offer. Its homepage emphasizes the luxury lifestyle featuring upscale homes in equally beautiful communities. The blue-and-white color scheme perfectly embodies the waterside living that Florida is known for.
SpencerRaymondGroup.com isn't just for those searching for homes. It's also a great place to keep abreast of the latest Florida real estate news. Their blog is up to date with everything you need to know about local trends.
The best feature of this website: Finding the home of your dreams is a breeze with its quick search feature, featured listings reel, and featured areas section.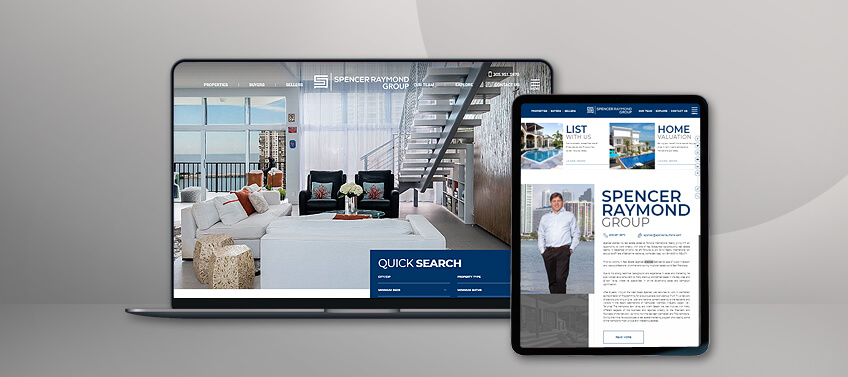 Let's recap!
As you can see, there's no one way to create an awesome real estate website. Each website showcases the strengths of each of the real estate professionals behind it in a unique way. Here's a quick run-through on what makes each of the entries on our June 2020 top 10 list stand out:
KevinMeyerGroup.com – Effortless elegance with a timeless color scheme.

LewistTeam.com – Clean-cut style with great focus on branding.

OppenheimRealEstate.com – Bold design elements paired with excellent features.

GilletteGroupAZ.com – Dynamic video header that encapsulates their brand and business.

McCormickGroupOrangeCounty.com – Smart use of photography and colors to embody the area's lifestyle.

TopOrlandoHomes.com – Video header does a wonderful job of emphasizing why they're the best in the business.

TheBerkeleyAdvisors.com – Useful web features and innovative team section.

AyersRealtyGroupKC.com – Streamlined layout to optimize features and great subtle animation.

TheMLPG.com – Easily accessible services with strong aesthetic appeal.

SpencerRaymondGroup.com – Showcases the properties and the lifestyle incredibly well.
Now that you've seen how personalized real estate websites can be, why not revamp your own? Make your website work for you and your business.
Get in touch with Agent Image today and get a free consultation. Our website design and internet marketing experts are at your service! Call us at 800.979.5799 to learn more.
The post 10 Best Real Estate Websites for June 2020 appeared first on Best Real Estate Websites for Agents and Brokers.